Maple Rapids Lumber Mill, Inc. is a family owned and operated lumber mill with two locations in Saint Johns, Michigan and Coleman, Michigan. We have been providing the Mid-Michigan and Tri-Cities areas with exceptional lumber products and services for over 40 years.
At Maple Rapids Lumber Mill, Inc., we offer a variety of specialties and services including:
As you begin your next project, make sure you are investing in high quality materials, especially lumber. You want lumber that is cut well, treated well, and will look spectacular. This is exactly what you will get when you come to Maple Rapids Lumber Mill, Inc. for all your lumber products and services.
If you are in the market to buy lumber or sell your timber, come visit the experienced team at Maple Rapids Lumber Mill, Inc. today. Since 1973, we have been a family-owned business known for high-quality lumber products and services. We are your local lumber experts with over 40 years of experience in the industry. Don't settle for low quality products and services, trust Maple Rapids Lumber Mill, Inc. to provide you with the highest quality lumber products and exceptional customer service that you won't find anywhere else.
For more information on our products and services, call Maple Rapids Lumber Mill, Inc. today at (989) 682-4225 for our Saint Johns location or (989) 465-9577 for our Coleman location.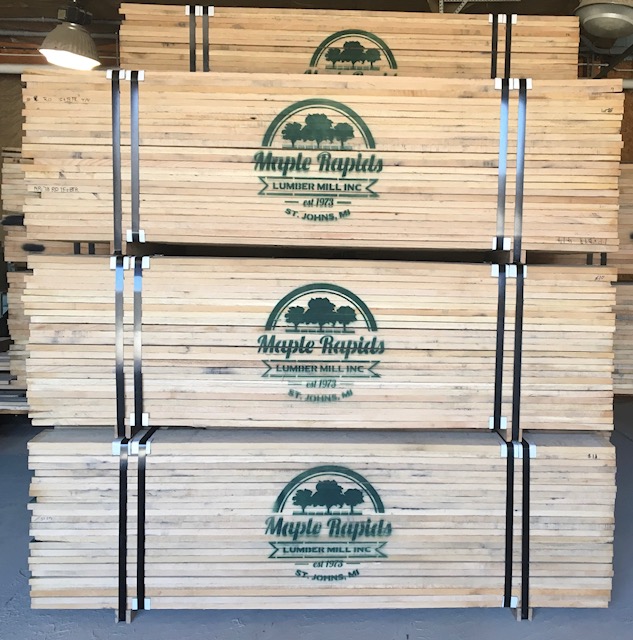 At Maple Rapids Lumber Mill, Inc., we will buy your standing hardwood timber at a fair price, whether you are a public or private land owner. We specialize in the select cutting of timber for sustainable wood lot management.
Maple Rapids Lumber Mill, Inc. has a great variety of Rough Sawn Lumber for sale. Whether you are shopping as an individual or a contractor, you can custom order your flooring or trim packages to your specific needs.
Purchase mulch, wood chips, and bark from Maple Rapids Lumber Mill, Inc. for your next landscaping project. If you are looking to change the look of your yard, or install a new garden, give us a call, we'll give you advice on your next project.
Katherine Grubaugh, the office manager, is very friendly to deal with. I love going there in the Spring to purchase landscaping bark. The environment brings back memories when things were simple. I've also dealt with Ken Grubaugh and his son Ryan when inquiring about hard wood flooring, there rustic hickory is gorgeious and the final product installed in our living room was very high quality. I'd reccommend them for any of your hard wood or landscaping needs!
Primary Communities Served
Akron
Alma
Auburn
Bay City
Beal City
Beaverton
Blanchard
Breckenridge
Bridgeport
Carson City
Central Michigan
Charlotte
Chesaning
Clare
Clinton County
Coleman
Dewitt
Dimondale
Dodge City
East Lansing
Eaton Rapids
Edenville
Edmore
Essexville
Farwell
Fowlerville
Frankenmuth
Freeland
Gladwin
Grand Ledge
Greenville
Harrison
Haslett
Hemlock
Holt
Ionia
Isabella County
Ithaca
Laingsburg
Lake
Lake George
Lake Isabella
Lake Odessa
Lansing
Laporte
Loomis
Maple Rapids
Mason
Mid Michigan
Midland
Millington
Mount Pleasant
North Bradley
Oil City
Okemos
Owosso
Perry
Portland
Poseyville
Saginaw
Sanford
Shepherd
St Johns
St. Charles
St. Louis
Stanton
Swan Creek
Vassar
Vernon Center
Vestaburg
Williamston
Zilwaukee