Rough Sawn Lumber For Sale
Get Quality Custom Made Flooring and Trim
Maple Rapids Lumber Mill, Inc. has a great variety of Rough Sawn Lumber for sale.
Whether you are shopping as an individual or a contractor, you can custom order your flooring or trim packages to your specific needs.
In addition to the species listed below, we have specialty lumber for flooring and trim such as rift and quartered oaks, rustic hickory, brown maple, etc. Specialty lumber will give you that one of a kind look you are hoping for.
Contact our Coleman division at 989-465-9577.
Maple Rapids Lumber Mill, Inc. Sells All Types Of Lumber
Ash
Cherry
Hard Maple
Hickory
Red Oak
Soft Maple
Walnut
White Oak
Basswood
Get Semi Loads of Green or Kiln Dried Hardwood Lumber
Whether you are a wholesale customer or a contractor, you can get high quality grade lumber green or dried delivered or picked up at our yard. You can find Green lumber at our sawmill location in Saint Johns, and Kiln Dried Lumber at our Coleman location.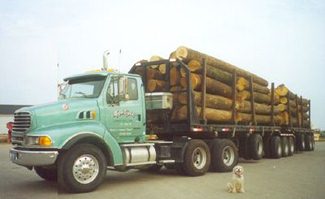 Maple Rapids Lumber Mill, Inc. is accredited by the Better Business Bureau serving Western Michigan.
Members of the National Hardwood Lumber Association
Members of the Indiana Hardwood Lumbermen's Association
Members of the Lake States Lumber Association
Michigan Association of Timberman
If you are in the market to buy lumber or sell your timber, come visit the experienced team at Maple Rapids Lumber Mill, Inc. where we can handle all your lumber needs.
For more information on our products and services, call Maple Rapids Lumber Mill, Inc. today at (989) 682-4225 for our Saint Johns location or (989) 465-9577 for our Coleman location.
Great place for mulch, they are generous in their delivery and about 13 bucks for a yard of mulch will normally get you a yard and a half of actual payload.
Primary Communities Served
Akron
Alma
Auburn
Bay City
Beal City
Beaverton
Blanchard
Breckenridge
Bridgeport
Carson City
Central Michigan
Charlotte
Chesaning
Clare
Clinton County
Coleman
Dewitt
Dimondale
Dodge City
East Lansing
Eaton Rapids
Edenville
Edmore
Essexville
Farwell
Fowlerville
Frankenmuth
Freeland
Gladwin
Grand Ledge
Greenville
Harrison
Haslett
Hemlock
Holt
Ionia
Isabella County
Ithaca
Laingsburg
Lake
Lake George
Lake Isabella
Lake Odessa
Lansing
Laporte
Loomis
Maple Rapids
Mason
Mid Michigan
Midland
Millington
Mount Pleasant
North Bradley
Oil City
Okemos
Owosso
Perry
Portland
Poseyville
Saginaw
Sanford
Shepherd
St Johns
St. Charles
St. Louis
Stanton
Swan Creek
Vassar
Vernon Center
Vestaburg
Williamston
Zilwaukee