Maple Rapids Lumber Mill, Inc.
Maple Rapids Lumber Mill, Inc. is a family-owned and operated business with a reputation for providing high-quality lumber products and services for nearly 50 years. After working in the industry for nearly a decade, president Richard Grubaugh, along with his brother, Ken, started the company in 1973.
"We borrowed a portable sawmill to get started and just kept sawing," said Richard. "Since then, we haven't quit sawing, and we've never run out of logs."
Today, two generations of the Grubaugh family now work at the mill—Ken as vice president, Ken and Richard's sister, Catherine Childers (office manager), nephew, Ryan (mill operations and sales), nephew, Greg Armbrustmacher (finance management), and several other nieces and nephews.
A member of the National Hardwood Lumber Association, Lake States Lumber Association, Indiana Hardwood Association, and the Michigan Association of Timbermen, Maple Rapids Lumber Mill also owns a drying facility in Coleman, Michigan, producing kiln-dried lumber and flooring which ships to customers as far away as China.
Maple Rapids Lumber Mill, Inc. employs more than 40 employees at their two locations, processing more than eight million feet of lumber, and drying 1.5 million feet of lumber per year. Among their workforce are sawyers who utilize computers to get the most out of every log, National Hardwood Lumber Association-certified graders, and experts that maintain all of the mill's machinery and saw blades in-house—saw blades that can last for years and are changed twice per day. The mill receives an average of four truckloads—or 400 logs—every day. 
"We source most of our logs from within 60 miles but have purchased timber from as far away as the Mackinac Bridge to get the best grade," said Ken Grubaugh. "We're always glad to come out and give a price on timber for no charge, and we're proud that many of our timber growers supply exclusively to us."
"When woodlots are properly managed, they'll produce forever," Richard added. "We've revisited many of these woodlots six or seven times over the past 48 years. In fact, there are more logs today than when we first started."
We pride ourselves in our humble beginnings and look forward to the future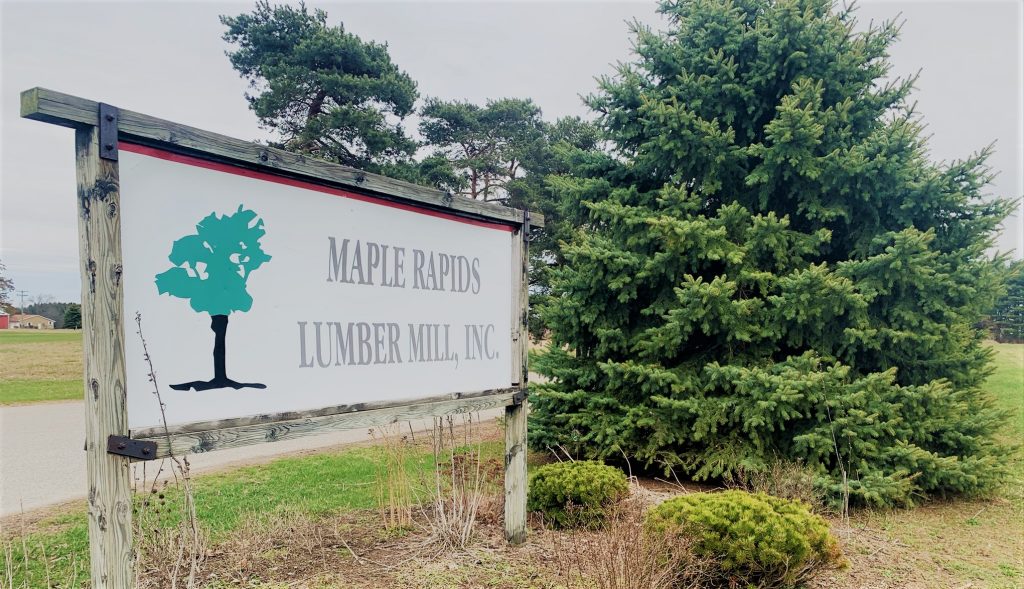 Called and scheduled a tour with Ryan. Was very impressed with the overall operation and the level of professionalism. We are proud to declare that Maple Rapids Lumber is our newest supplier for green hardwood lumber
Primary Communities Served
Akron
Alma
Auburn
Bay City
Beal City
Beaverton
Blanchard
Breckenridge
Bridgeport
Carson City
Central Michigan
Charlotte
Chesaning
Clare
Clinton County
Coleman
Dewitt
Dimondale
Dodge City
East Lansing
Eaton Rapids
Edenville
Edmore
Essexville
Farwell
Fowlerville
Frankenmuth
Freeland
Gladwin
Grand Ledge
Greenville
Harrison
Haslett
Hemlock
Holt
Ionia
Isabella County
Ithaca
Laingsburg
Lake
Lake George
Lake Isabella
Lake Odessa
Lansing
Laporte
Loomis
Maple Rapids
Mason
Mid Michigan
Midland
Millington
Mount Pleasant
North Bradley
Oil City
Okemos
Owosso
Perry
Portland
Poseyville
Saginaw
Sanford
Shepherd
St Johns
St. Charles
St. Louis
Stanton
Swan Creek
Vassar
Vernon Center
Vestaburg
Williamston
Zilwaukee